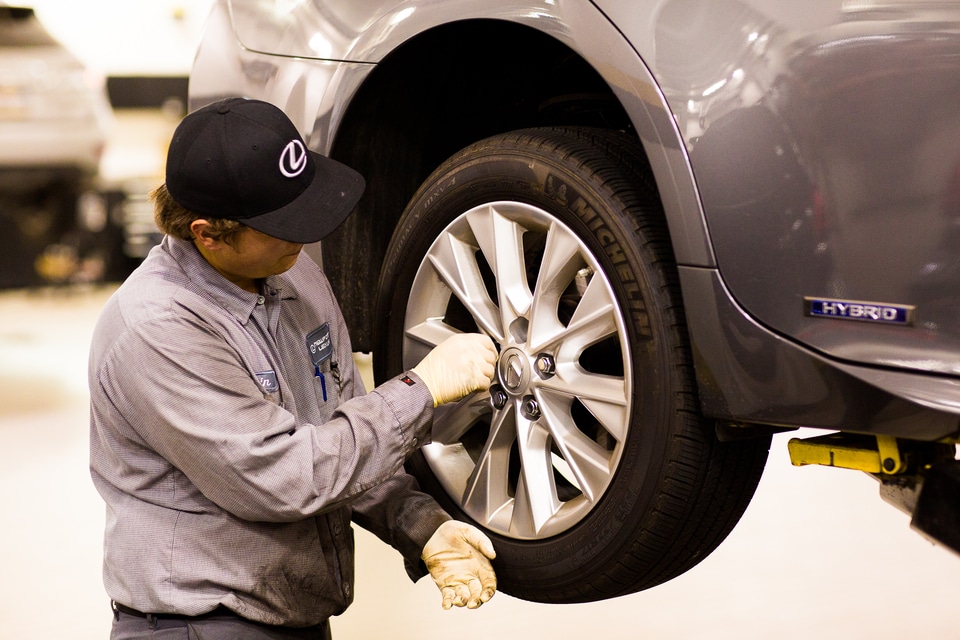 Nitrogen Tires: What Lexus of Pleasanton Customers Need to Know
Maintaining proper tire pressure is an essential part of vehicle maintenance. It is surprisingly easy for one tire to become underfilled, which can reduce your vehicle's fuel efficiency, wear the tire out faster, and increase the risk of a blowout. For years, your only option for filling your tires has been compressed air. However, there is a new option for Lexus of Pleasanton customers that that improve your tires' performance and lifespan. Here is what you need to know about filling your tires with nitrogen gas.
What are Nitrogen Tires? How do They Differ from Regular Tires?
Nitrogen tires are filled with nitrogen gas instead of regular compressed air. Regular tires are filled with compressed air, which is the same as the air you breathe. Compressed air consists of about 78 percent nitrogen, 21 percent oxygen, and one percent a combination of carbon dioxide, water vapor and trace amounts of other gasses. For comparison, filling your tires with nitrogen displaces other gasses until your tires are filled with between 93 percent to 95 percent nitrogen.
What are the Advantages of Filling Tires with Nitrogen?
The small amount of water vapor in regular compressed air can expand and contract depending on the temperature. This can have a detrimental effect on the longevity of your tires. Nitrogen is a dry, inert gas. It reacts very little to changes in temperature, and its molecular structure provides outstanding reliability and durability.
Tires filled with nitrogen provide plenty of advantages to drivers. Nitrogen tires are about 74 percent more effective at maintaining tire pressure than tires filled with regular compressed air. This can benefit drivers in a multitude of ways. About one in four cars on the road have at least one tire that is significantly underinflated. Underinflated tires are prone to going flat, or worse, blowing out. Underinflated tires reduce fuel efficiency and wear out the tread faster. When you fill your tires with nitrogen, you can boost your tires' performance, extending their lifespan by about 31 percent and their rolling resistance by 70 percent. Because properly inflated tires have better fuel efficiency than underinflated tires, filling your tires with nitrogen can even save you money on gas.
How Much Does Filling Tires with Nitrogen Cost?
Filling a new set of tires can cost a total of about $70 to $175, depending on the location. Draining your tires of regular compressed air and refilling them with nitrogen can cost about $30 per tire. Regularly topping off your tires with nitrogen to maintain ideal tire pressure can cost about $80 to $112 per years. While this is definitely pricier filling up on compressed air for free or for change, the costs can be offset significantly by reduces tire maintenance and improved fuel efficiency.
Does Nitrogen Prevent Tire Rot?
Nitrogen tires have effectively no water vapor. As a result, you might assume that nitrogen prevents tire rot. However, tire rot from water vapor is actually highly unlikely. Nitrogen certainly doesn't increase the odds of tire rot, however.
Can I Top Off My Nitrogen-Filled Tires with Regular Compressed Air?
Yes. Underinflated tires are dangerous, and it is perfectly safe to add regular compressed air to a tire filled with nitrogen. If your tire is underinflated, fill it with air as soon as possible, even if you don't have easy access to nitrogen.
Learn More About Nitrogen Tires Today
Are you interested in the potential benefits of nitrogen tires for your Lexus? Want to learn more about our tire selection and how nitrogen can help them last longer and perform better? Then contact Lexus of Pleasanton today!
Hours
Monday

9:00AM - 7:00PM

Tuesday

9:00AM - 7:00PM

Wednesday

9:00AM - 7:00PM

Thursday

9:00AM - 7:00PM

Friday

9:00AM - 7:00PM

Saturday

9:00AM - 6:00PM

Sunday

12:00PM - 5:00PM
Make an Inquiry
* Indicates a required field